Heroes MAKE America Helps Veterans, Spouses Find Their Next Mission in Manufacturing [Q&A]
Featured in Thomas Insights
Share:
Welcome to Thomas Insights — every day, we publish the latest news and analysis to keep our readers up to date on what's happening in industry. Sign up here to get the day's top stories delivered straight to your inbox.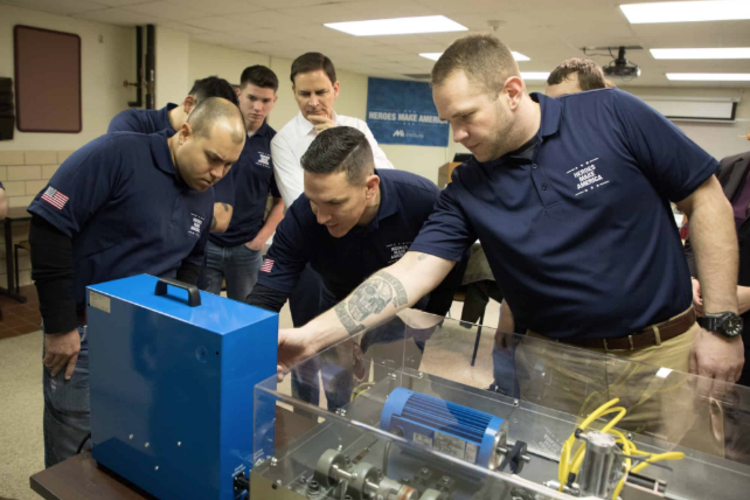 "One of the things that's really challenging with the military community is finding that next mission," says Babs Chase, Vice President of Military & Veterans Programs at The Manufacturing Institute.
She explains: "The military community is a community of wraparound support. It's everything from where do you live? Where do you shop? How do you dress? Everything in your world is wrapped up in that military community."
"When you step out of that, it's really scary."
Whether service members served three years or 25 years, it's difficult for them to transition to other work. Often they're so anxious that they take the first thing they come across, even if it's not the right fit for them.
"My husband did 20 years in the Navy. This is personal," says Chase. "I spent about 15 years in the Pentagon, so I watched so many friends at all different levels of service try and find that next mission."
In her role at The Manufacturing Institute, Chase leads an initiative called Heroes MAKE America that works to introduce veterans, reservists, the National Guard, and military spouses to different sectors of the manufacturing industry so they can make judicious career choices. The pipeline of qualified workers who know how to work under pressure is also helping the industry close the skills gap.
Thomas Insights (TI): Can you tell me why veterans have great training for a career in manufacturing?
Babs Chase (BC): Our members in the military community have the technical training, have leadership skills, and they're mission-focused. They are accustomed to working in teams towards a common goal. It sounds minimal, but it's really not — they're on time. They're disciplined, and they're adaptable. When you think about the variety of environments that they're placed in and whether that's in combat, they're in high-stress situations on a regular basis, and they have to keep their cool.
So what I like to say is those who have served really know how to operate and excel, not just in a challenging environment but in a fast-paced environment. And these are all traits that we know are particularly essential during these interesting times in manufacturing.
TI: How is Heroes MAKE America unique from other veteran-focused programs?
BC:  There are a lot of amazing organizations and opportunities for those that are trying to transition into civilian careers, but what makes us particularly unique is we are an industry-focused and industry-led initiative. We hone in on how we engage, recruit, and prepare talent for manufacturing. We know what a need there is in the industry and what incredible lucrative careers that it can be.
We are a Department of Defense-approved skill-bridge program, which means that transitioning service members are able to participate in our training during their last 180 days of service. We also work with veterans, National Guard, reservists, and military spouses of active duty.
Because of our positioning with the National Association of Manufacturers, we have incredible access to manufacturers that helped us. Having those direct relationships with manufacturers helps with our virtual program through Heroes Connect, and then it also helps us reach out to the folks that are actually going to hire our graduates.
We ensure that we're introducing our participants to a variety of manufacturing opportunities. When we were doing in-person [before the pandemic], we were taking our participants on tours of modern manufacturing, so they were getting to see firsthand what's going on in these facilities. It gives them a better opportunity to really see themselves in those jobs. They were also getting to meet the leaders of HR, the recruiters, and they were meeting veterans that have already transitioned successfully into these companies.
TI: What sort of certifications and training does the program offer?
BC: We currently offer the Certified Production Technician, which is offered through the Manufacturing Skills Standards Council (MSSC). They also receive OSHA 10 and forklift operation.
We see that as a foundational training for manufacturing, but when that is paired with our participants' years of military training and experience, that sets them up for success because we're helping to translate that skills and experience from the military into the civilian sector. So it's helping them understand the language.
We also offer a mechatronics training through our Fort Campbell Kentucky location. We are currently piloting a Certified Logistics Technician training online, focused on remote learners, in partnership with another organization.
We passed over 400 graduates just last month, which is really exciting. When you look at the diversity of the people going through our program, they represent close to a hundred different military occupational codes or trainings, basically the job they did in service. And so we want to ensure that we are preparing a whole depth and breadth of individuals for these careers.
The wraparound support and the networking connections are hallmarks of our program. That includes everything from transition guidance, resume review, placement support, and even just bouncing ideas off for salary negotiation.
TI: I know Samsung was the founding sponsor of the program, and since then a number of other sponsors have become involved. How have these companies shaped the development of Heroes MAKE America and added to students' skills and experiences?
BC: Our sponsors really are essential to meeting the needs of our program. At the end of the day, they are hiring our participants. They are opening their doors, either in person or virtually, to showcase the industry.
They participate in manufacturing awareness events. And what's important about that is they're showcasing a variety of segments of the industry. A lot of people may know some of the household names and the larger companies, but they may not realize the incredible careers they can find with one of the smaller manufacturers.
Heroes Connect is the name of our virtual program, where we're introducing our participants to manufacturers who are hiring today.
TI: What are some of the unique challenges that military spouses face, and how does the program helps participants overcome those challenges?
BC: Our entire team is military spouses or veterans so this is personal for all of us. For a military spouse, they are moving constantly. And depending on the installation and depending on whatever role that their spouse is going to be doing in their next job, they may be alone raising their family. They may be in a more remote installation that's making it harder for them to find a job.
Depending on somebody's job, whether they're nurses, attorneys, whatever that may be, they often have struggles with certifications being portable across state lines. The unique piece about what we're doing in manufacturing is that that's not an issue. They are 100% portable, and they are industry-recognized.
Manufacturing is all across the country in every community. Just because somebody goes through our training and they are out, that doesn't end our relationship with them. If we have a spouse that goes through our program and they get one job in manufacturing and say, "Hey, now we're moving from Fort Riley, Kansas. We're going to be now in Fort Bragg, North Carolina," we can help and reach out to manufacturers in the area once they've identified one of interest and help to pave the way for them.
TI: What's an example of a success story from Heroes MAKE America?
BC: We had one gentleman that went through our Fort Riley program. His name was Dan Mitchell. He is now with Daikin, in Minneapolis.
He said to his program manager in an email recently, "Every day I use lessons or qualities I gained in the Army to help be a better supervisor. And the baseline knowledge I received from the Certified Production Technician training gave me a big leg up over my peers."
We had a female participant that went through the program. Her name's Brittanee Sayer, and she was transitioning out as a sergeant. Her background was maintenance and mechanical, and she really wanted to go back to her hometown. We did a Hero's Connect with General Mills. She met them virtually, and they just happened to have a facility nearby. And she has a great role now. It's got growth opportunities and a competitive salary. Watching her continued success is a win.
There was a marine that went through our program out of Fort Bragg, Tony Perez. He had a safety background in the Marine Corps, and by getting engaged with us, we introduced him to Martin Marietta. They saw his value, and he is now excelling in a safety role with them.
TI: How can others get involved?
BC: We have placed our students in around 38 states, three countries, and one U.S. territory. We always want to expand our network of manufacturers, whether they're sponsoring, hiring, and just supporting and getting involved with our work. And they can find all of those opportunities. Those links are on our website.
Image Credit: Courtesy of The Manufacturing Institute (www.themanufacturinginstitute.org)